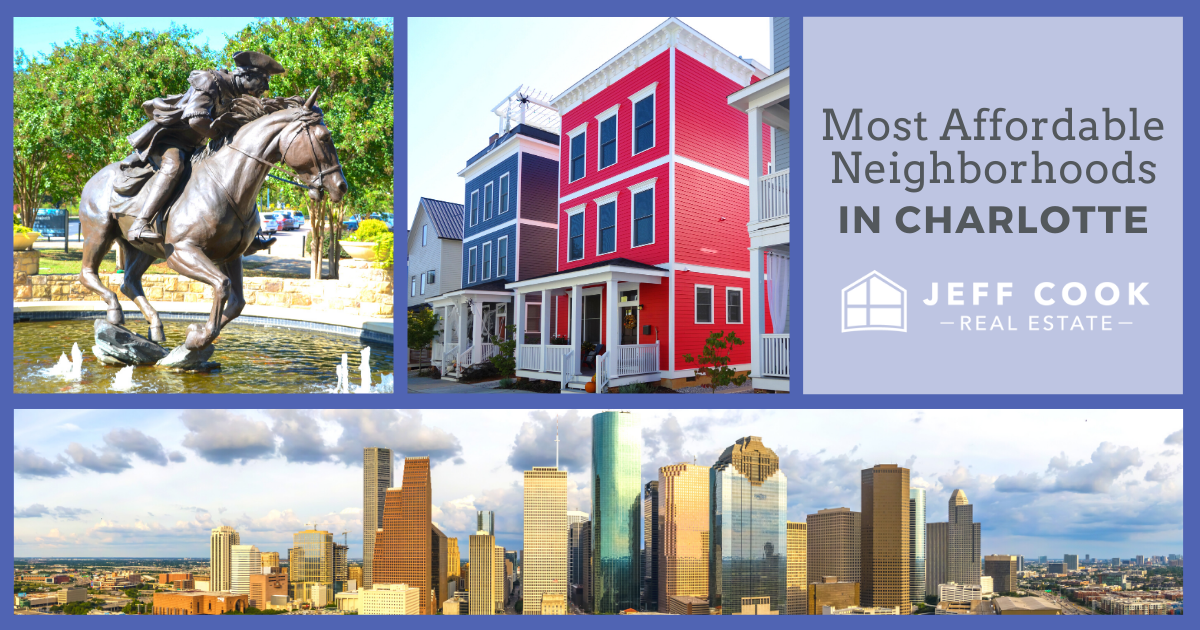 Most Affordable Neighborhoods in Charlotte: Charlotte, NC Affordable Living Guide
Charlotte, North Carolina, offers a wide selection of residential neighborhoods, with a lower cost of living for housing than many other areas. Situated in Mecklenburg County, the city has close to 900,000 residents. The Charlotte-Concord-Gastonia metro area spans more than 340,000 households. There are 29 zip codes in Charlotte and dozens of residential neighborhoods with easy access to schools, parks, shopping, restaurants, and major routes. The city offers easy proximity to Winston-Salem, Asheville, and Raleigh. It's about 200 miles from the coast.
Charlotte's most affordable neighborhoods include Ballantyne West, Chantilly, Sardis Forest, Providence Crossing, and McAlpine.
Ballantyne West
Ballantyne West Amenities
Ballantyne Country Club
Brick Church Park
Community Caw Park
Carlyle Park
Ballantyne Fitness Trail
The Ballantyne West neighborhood sits in Charlotte's 28277 zip code area, a community located on the border of North and South Carolina. It's part of the greater Ballantyne neighborhood that spans more than 2,000 acres in Charlotte's southern region. Highway 521/Johnston Road runs through Ballantyne West from north to south, making it easy for residents to connect to the Governor James G. Martin Freeway/I-485 Outer.
Within the community are various schools that include Ballantyne Elementary on Scholastic Drive, while Ardrey Kell High School is less than three miles away. The community is about 20 miles south of Uptown Charlotte, a thriving cityscape with restaurants, entertainment hot spots, and cultural venues.
Ballantyne West's home prices vary, but it's possible to find listings from the low $200s to mid $300s for a single-family home with 2 to 3 bedrooms and 2 bathrooms. Real estate can list higher, reaching the mid $500s for newer constructions.
Ballantyne West Hotspots
Ballantyne West Nightlife
Ballantyne West Restaurants
Chantilly
Chantilly Amenities
Chantilly Park
Briar Creek
Discover the residential neighborhood of Chantilly, a community located in the heart of Charlotte's 28205 zip code. Residents enjoy easy proximity to Uptown, major routes, parks, schools, and various businesses, retail, and restaurants. Chantilly sits 12 miles east of the airport, two miles from the Central Piedmont Community College, and is adjacent to the Elizabeth and Commonwealth communities. One of its borders is U.S. 74/East Independence Freeway/Boulevard.
The small neighborhood is near Atrium Health Mercy Medical Center, Novant Health, and various service businesses. North of Highway 74 along Pecan Avenue is popular places to shop and eat, like Whiskey Warehouse, Snooze Eatery, and the Midwood Smokehouse.
Chantilly offers homebuyers a choice of single-family homes plus upscale townhomes. The new townhome constructions on Shenandoah range from the low $400s to the upper $500s for 3 bedrooms and 3.5 bathrooms. Single-family homes vary in listing price but generally can be found from the mid $400s to the upper $800s.
Chantilly Hotspots
Chantilly Shopping
Chantilly Cafés
Chantilly Restaurants
Sardis Forest
Sardis Forest Amenities
McAlpine Creek Greenway Trailhead
According to Niche's population report, more than 4,000 residents live in the Charlotte neighborhood of Sardis Forest. It's located in the city's 28105 zip code area, tucked between Routes 16 and 51/Pineville-Matthews Road. Neighborhood borders include Sardis Road and Alexander Road. Residents living in Sardis Forest enjoy easy proximity to the best of Charlotte. It's about 11 miles to Uptown and less than 20 miles to the airport.
Sardis Forest sits adjacent to the Sardis Woods neighborhood and Sardis Patio. It's south of the James Boyce Park and the Sardis Swim and Racquet Club. Cedarwood Country Club, Sardis Park, and the Sardis Forest Park are nearby as well. Schools that serve the neighborhood are Elizabeth Lane Elementary, South Charlotte Middle, and Providence High School.
The residential neighborhood features single-family homes that typically list from the low to mid $300s. However, home listings may vary depending on the construction age, size, and finishes. Home styles include but are not limited to traditional colonial homes, ranches, and contemporary two-stories.
Sardis Forest Hotspots
Sardis Forest Shopping
Sardis Forest Restaurants
Providence Crossing
Providence Crossing Amenities
Stone Creek Ranch Park (North and South)
Life Time Athletic gym (on Golf Links Drive)
Providence Country Club
The Providence Crossing neighborhood is located in Charlotte's 28277 zip code. Providence Crossing is primarily a residential community plus areas with retail shops, service businesses, and restaurants. It sits about 20 miles south of Uptown and approximately 23 miles from the airport. Route 16 is its eastern border, and the neighborhood extends just north of I-485 Outer. Tom Short Road runs through Providence Crossing, making it easy to connect to Ardrey Kell Road.
Robinson Middle School is on the north side of the community, close to the shops at the Promenade on Providence. Polo Ridge Elementary and Ardrey Kell High School also serve Providence Crossing.
The neighborhood has a mix of single-family homes, townhomes, and apartments like the Links Rea Farms. On average, single-family homes list from the mid $300s to low $600s for 3 to 5 bedrooms and 2+ bathrooms. Home styles include brick colonials and contemporary two-story constructions.
Providence Crossing Hotspots
McAlpine
McAlpine Amenities
Lower McAlpine/McMullen Creek Trailhead (access off Vista Grande Circle)
McMullen Creek Greenway Trailhead
McAlpine Creek Greenway Trailhead
Painted Tree Swim & Racquet Club
The Charlotte neighborhood of McAlpine is located in the city's 28226 zip code adjacent to Whiteoak and nestled between Route 51 and I-485 Outer/Pineville-Matthews Road. Niche reports the neighborhood has approximately 5,860 residents. McAlpine is less than 20 miles from the Charlotte Douglas International Airport (CLT).
Local public schools that serve the McAlpine community are Endhaven Elementary, Quail Hollow Middle, and the South Mecklenburg High School on Park Road. The high school is two miles north of the neighborhood.
McAlpine is a primarily residential neighborhood with a mix of single-family homes, townhomes/condos, and apartments like the Marquis at Carmel Commons and the Marquis of Carmel Valley. On average, the single-family homes list from the mid $100s to low $300s. These properties have spacious yards with mature trees and easy access to major routes like Johnston Road and Carmel Road. Two-bedroom, two-bathroom condos in McAlpine typically list in the low to mid $100s.
McAlpine Hotspots
McAlpine Shopping
Fresh Market
Pet Supplies +
Party City
McAlpine Cafés
McAlpine Restaurants
Discover Charlotte's Best and Most Affordable Neighborhoods Today
Come home to a Charlotte, North Carolina neighborhood for affordable homes in a city teeming with amenities and things to do. Throughout Charlotte, residents can enjoy numerous cultural venues and attractions, professional sports, diverse shopping and dining, and miles of biking/walking trails. Charlotte offers an expansive selection of residential neighborhoods with a mix of single-family homes, townhomes and condos, and apartment complexes with resort-style amenities. Discover the most affordable neighborhoods in Charlotte today.